Gastric sleeve is a surgical weight loss procedure completed in a  gastric sleeve center,  in which the 70-80% of the stomach is removed to reduce the stomach capacity, increasing the feeling of satiety with less food, improving eating habits and thus achieving a great amount of weight loss. Gastric sleeve in Turkey is minimally invasive and irreversible obesity surgery Turkey; advanced medical techniques can give the safest and most effective gastric sleeve results.
Gastric sleeve operation is a very demanding surgical weight loss procedure due to its life-changing results. The sleeve operation in Turkey is preferred for advanced obesity conditions for the quick progression of the results.
The non-surgical sleeve, also known as the non-surgical gastric sleeve or endoscopic sleeve gastroplasty (ESG), is a relatively new and innovative weight loss procedure. Unlike traditional gastric sleeve surgery, which involves making incisions and permanently altering the stomach size, the non-surgical sleeve is performed endoscopically without any incisions.
It is essential to undergo a thorough evaluation and consultation with a qualified healthcare professional to determine if the non-surgical sleeve is the right choice based on individual health status and weight loss goals.
In conclusion, the non surgical sleeve in the UK offers a less invasive and reversible weight loss option for individuals seeking significant weight reduction without traditional surgery. With its many benefits and effective results, this innovative procedure is providing new hope for individuals on their journey to improved health and well-being.
Gastric sleeve is a laparoscopic surgery that is performed under general anesthesia. During the best gastric sleeve surgery Turkey procedure, approximately 80% of the stomach is removed through tiny incisions made around the belly; the procedure is performed with tiny monitoring devices, which gives full control to the surgeon for the precision and safety of the operation. The capacity of the stomach is reduced; the hunger hormone Ghrelin is also removed.
Finding the best gastric sleeve surgeon in Turkey opens the door to transformative weight loss and improved health. With their experience, expertise, and commitment to patient care, these skilled professionals empower individuals to embark on a journey toward a healthier and more fulfilling life. Turkey's reputation as a leading medical tourism destination ensures that patients receive top-quality treatment in a welcoming and culturally rich environment. In this context, clinic Mono stands by its clients with its equipment and experience.
Clinic Mono uses a special kind of stitching technique to minimize the leakage risk while most of the surgeons use staplers. The gastric sleeve operation lasts around 1-1,5 hours depending on the patients' individual condition. Gastric sleeve requires 3 nights of hospital stay for a healthy start to recovery and the leakage tests to be done properly.
Recovery After Gastric Sleeve
Gastric sleeve operation is a surgical procedure that involves proper incisions and sutures; therefore, the recovery period requires enough care and attention. Your surgeon will give the post-op instructions prior to your gastric sleeve surgery Turkey, and they should be followed closely.
The fact that the stomach sleeve surgery is performed laparoscopically is very effective for a smooth recovery. Pain during the first few days is quite normal following gastric surgery in Istanbul; it can be accompanied by nausea.
After patients are discharged from the hospital, they will be provided with a suitable nutrition plan to make sure they get enough required nutrition for their body; a nutrition plan helps patients to adapt to new eating habits. This process starts with clear liquids and gradually progresses through to solid foods.
Within the first 2 months, patients achieve some very good results; the total weight loss process lasts until a year. As the weight loss progresses, 90% of obesity related medical conditions disappear, and possible future medical conditions are prevented.
GASTRIC SLEEVE AT CLINIC MONO
If you want to start your gastric sleeve surgery Turkey with the most comfortable and successful treatment option and the best advantageous prices, the best place in Turkey for a gastric sleeve is the Clinic Mono. Mono offers online consultation sessions for gastric sleeve Turkey treatments, in which patients can find out about gastric sleeve operation details, the benefits of gastric filler (stomach filler) in Turkey, stages, prices, and pre and post-operative periods and also can get online treatment planning that covers the medical history of the patients to determine their suitability for the gastric sleeve surgery.
After booking your gastric sleeve with Clinic Mono, our experienced and knowledgeable team will take care of the rest, as part of your all inclusive gastric sleeve surgery; you will be picked up by the airport when you arrive in Turkey and will be accompanied to all your appointments by the personal assistant assigned to you.
Gastric sleeve surgery takes around 1-1,5 hours; before and after the surgery, gastric sleeve Istanbul sleeve is performed under general anesthesia, so patients do not feel any pain or discomfort.
Patients stay in the hospital for 3 nights for all the check-ups and leakage tests to be done properly following their Turkey gastric sleeve; before they return to their home country, they will be prescribed proper medication and a nutrition plan. These are important aspects of the aftercare of gastric sleeve surgery as they are quite effective on the mild side effects and the adaptation process following the gastric sleeve in Turkey.
Weight loss after bariatric sleeve is a period that needs the attention and care of the patients. It is very important to follow the bariatric surgeon's post-operative instructions following stomach sleeve Turkey surgery and be ready to adopt a healthy lifestyle; patients are highly advised to support their weight loss with appropriate nutrition plans and exercises to achieve their final results most effectively and quickly. Throughout the weight loss period following the gastric sleeve surgery Turkey, your medical consultant at Clinic Mono will be only a call away to answer all your questions and follow your weight loss progress.
Surgery of stomach sleeve in Izmir with Mono offers a transformative path to weight loss and improved health in the midst of a captivating coastal city. With its advanced medical facilities, skilled bariatric surgeons, and a nurturing environment for international patients, Izmir provides an ideal setting for embarking on a weight loss journey. Stomach sleeve surgery can be a life-changing opportunity for individuals ready to embrace a healthier and more fulfilling future, enhanced by the enchanting beauty and warm hospitality of Izmir, Turkey.
BEST GASTRIC SLEEVE SURGEONS
For a successful gastric sleeve surgery process, it is important to choose the best hospital in Turkey for gastric sleeve with the most qualified, talented, and experienced surgeon; Clinic Mono is happy to offer gastric sleeve weight loss surgery Turkey with the best gastric sleeve surgeons. The consultation process is quite significant for effective and safe surgery; this process should cover every medical detail about the patients, including BMI value, prior surgeries, and medical procedures, any obesity related or chronic disease, and regularly used medications before your gastric sleeve op Turkey.
Your best gastric sleeve surgeon at Clinic Mono will be happy to you to inform you in detail and answer your questions.
GASTRIC SLEEVE TURKEY PRICE
| Type of Procedure | Mono | Cost UK | Cost EU | Cost US |
| --- | --- | --- | --- | --- |
| | | | | |
Turkey is a popular destination for bariatric sleeve surgery due to their gastric sleeve prices Turkey; one of the most demanded obesity surgeries in Turkey by international patients is gastric sleeve due to its magnificent, quick, permanent results and cheap weight loss surgery package prices. Gastric sleeve cost Turkey may vary depending on the package services and the personalized treatment plan, but they are still cheaper than cost in other countries, such as the gastric sleeve surgery cost UK. The cost of sleeve gastrectomy typically includes fees for the surgical facility, operating room, and hospital stay. Sleeve gastrectomy cost UK varies based on several factors, including hospital fees, surgeon's fees, anaesthesia costs, and post-operative care.
Gastric sleeve surgery in Istanbul with Mono offers an effective and transformative weight loss solution in a city that captivates visitors with its historical charm and vibrant energy. As an affordable option for those seeking long-term weight loss results, the gastric sleeve Istanbul price combines quality medical care with a rewarding experience in one of the world's most captivating cities. By investing in their health thru this procedure, patients can embrace a journey towards a healthier, happier, and more fulfilling life in the enchanting city of Istanbul.
To get information and find out how much is gastric sleeve surgery in Turkey, get to information about the gastric sleeve price in Clinic Mono for your individual condition, please contact us.
GASTRIC SLEEVE BEFORE AND AFTER GALLERY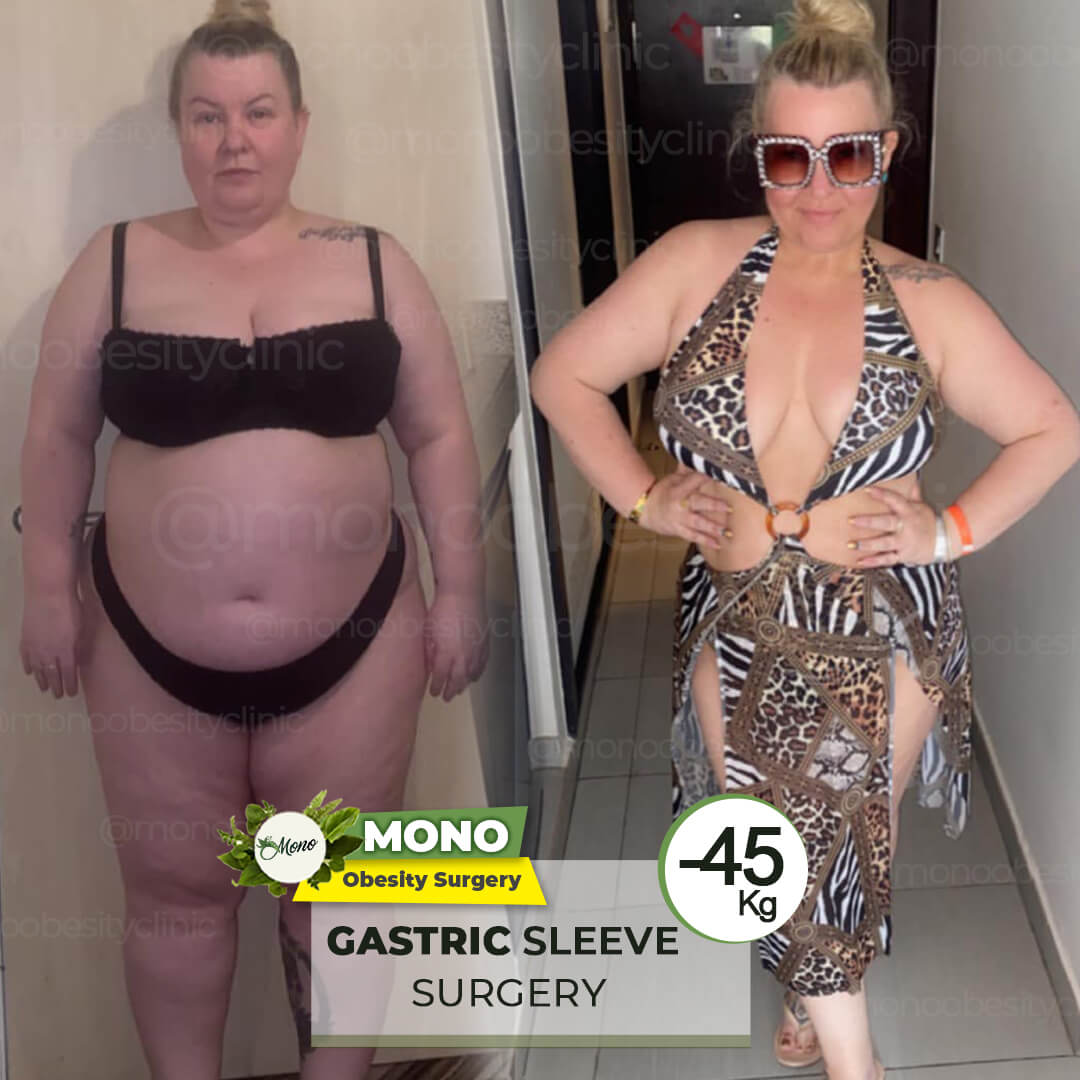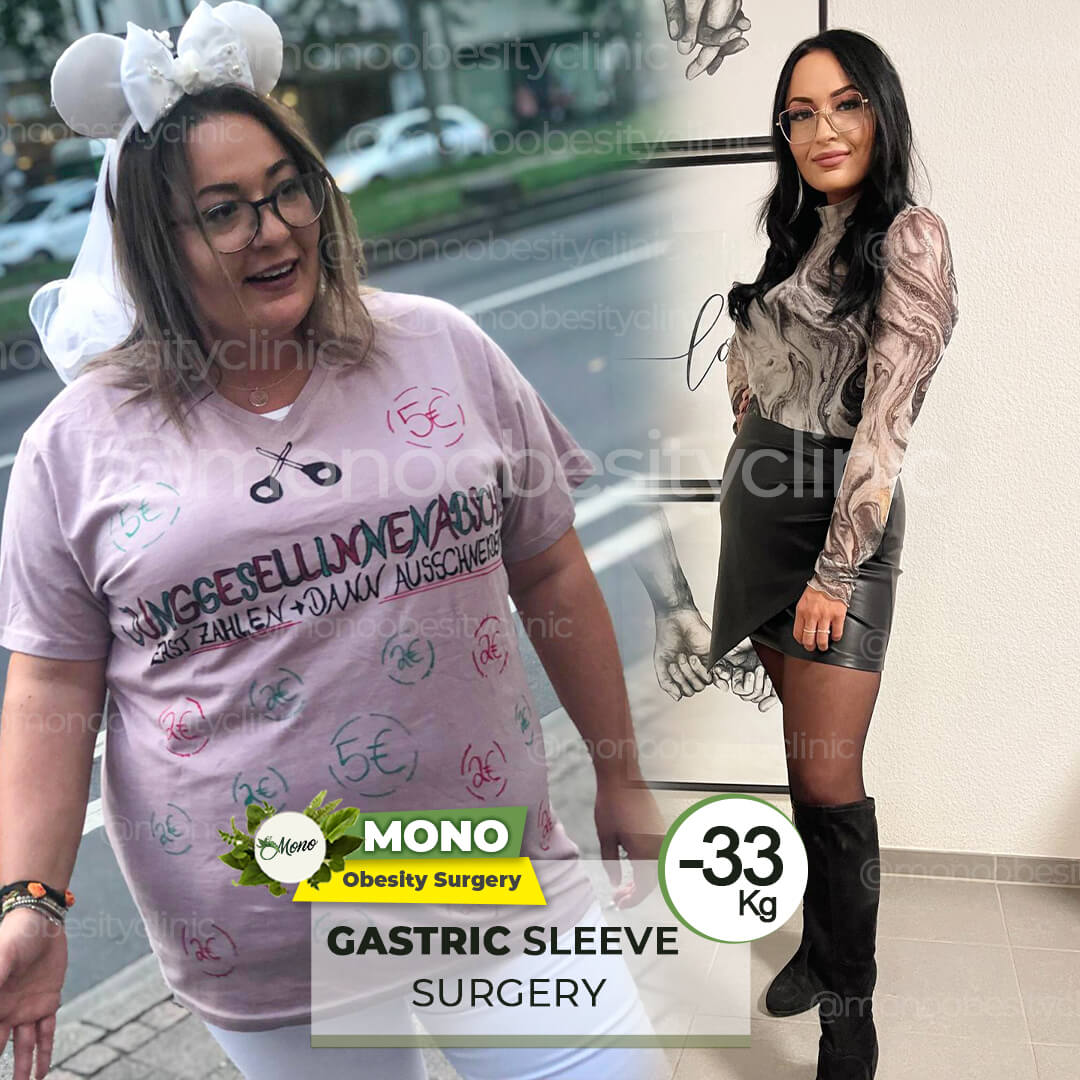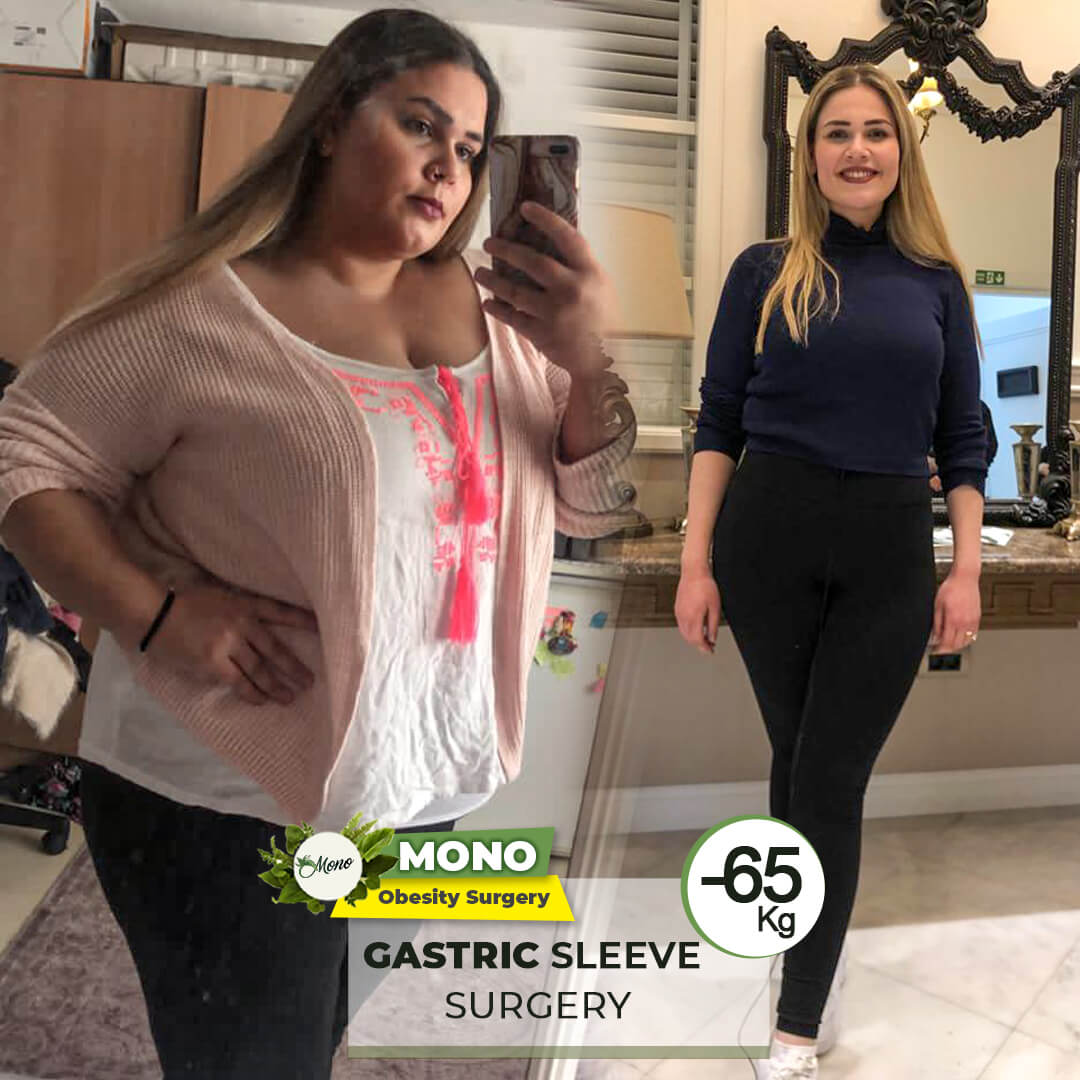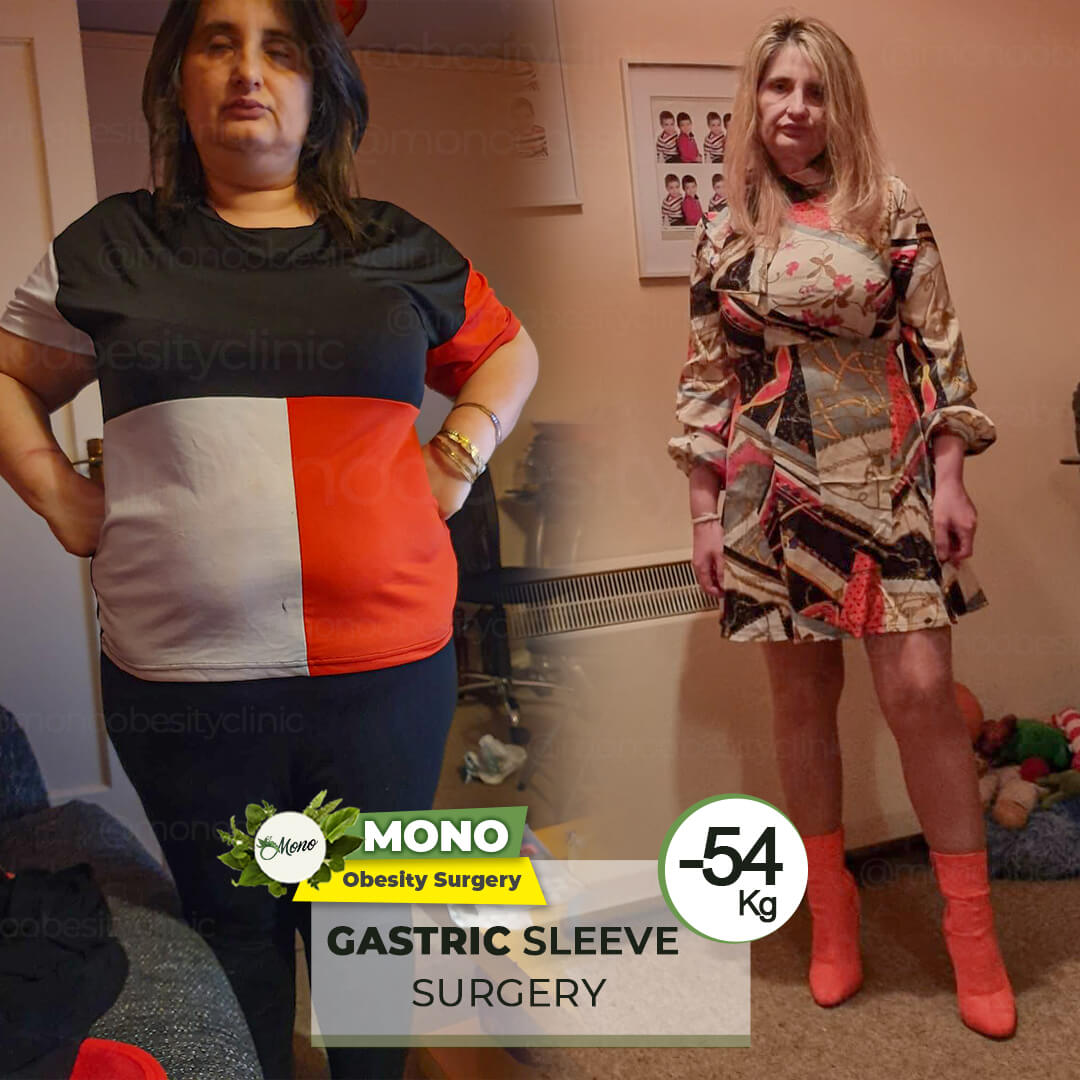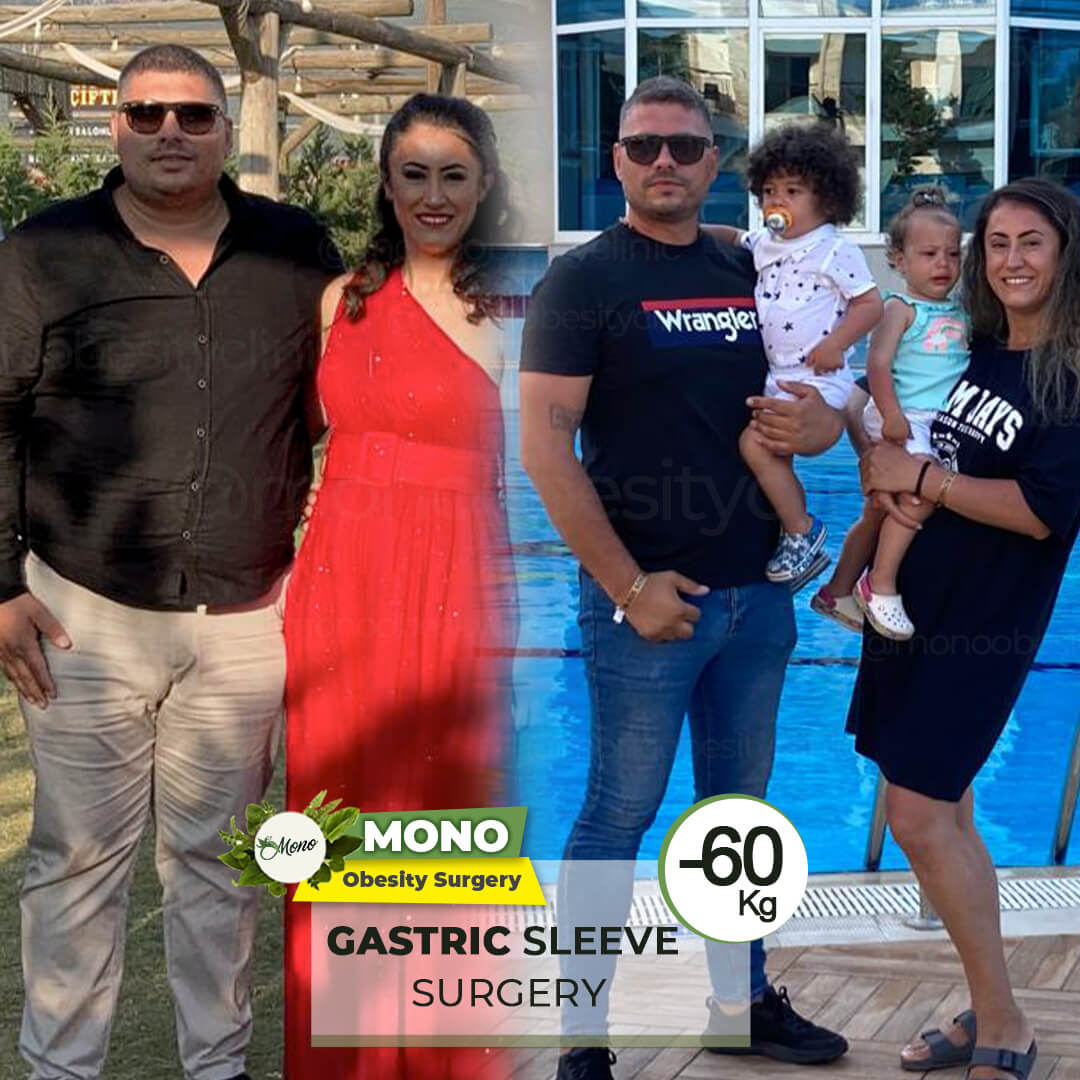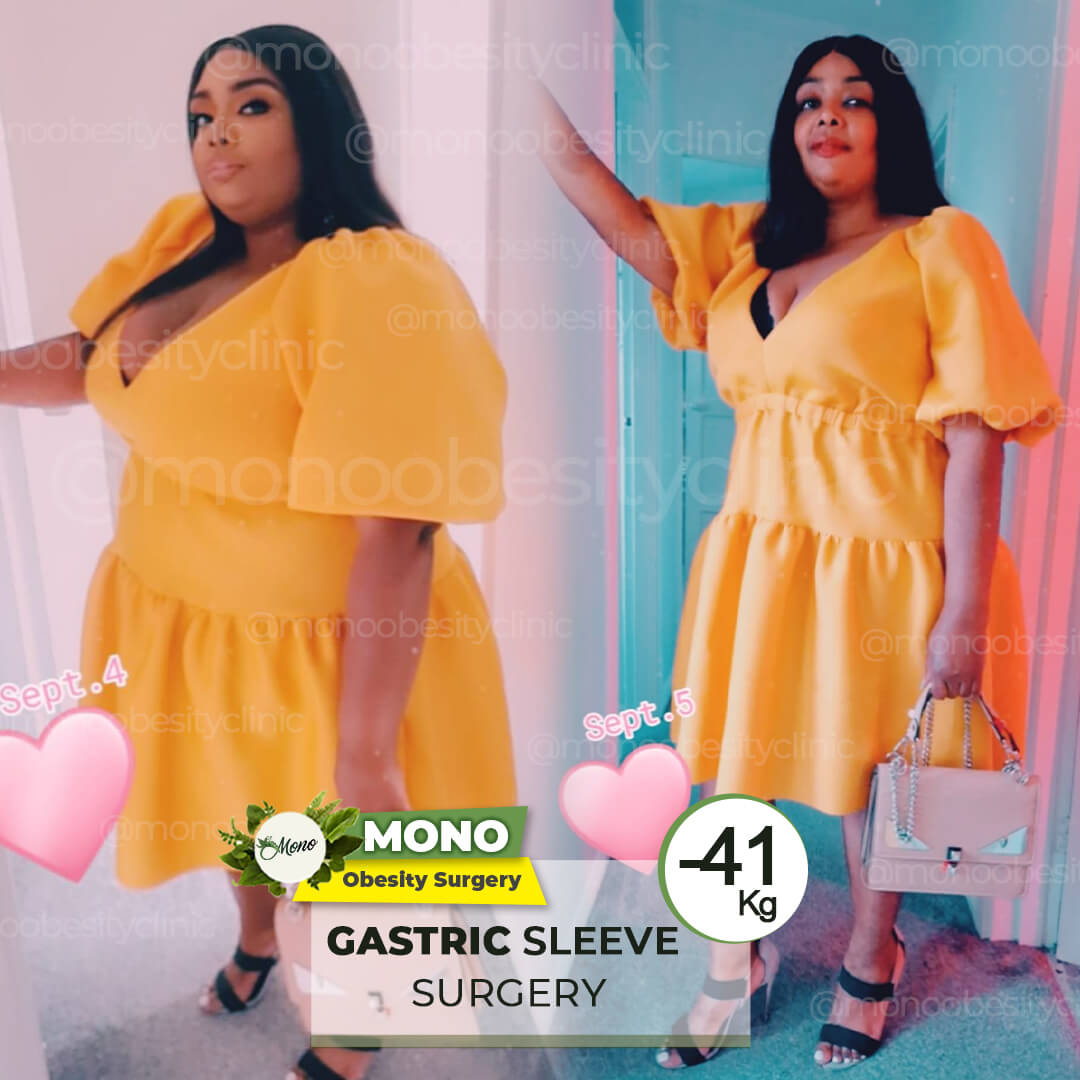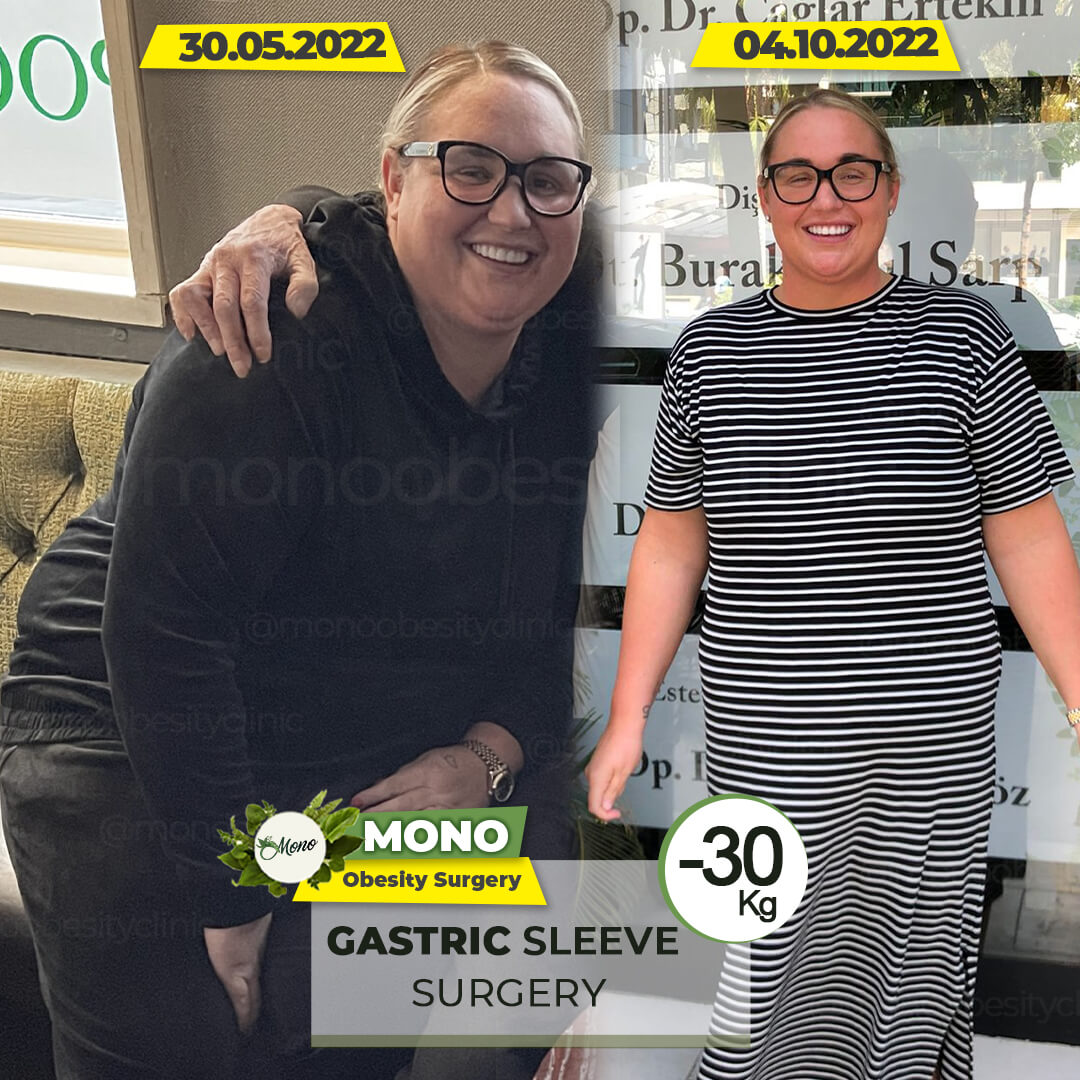 It is not surprising that gastric sleeve in Turkey reviews are positive; weight loss with gastric sleeve operation provides patients with not only a healthier and good-looking body but also increased self-confidence; being proud to perform the best bariatric sleeve surgery, Clinic Mono receives the best gastric sleeve reviews from its international patients who have achieved their dream body by gastric sleeve weight loss surgery Turkey.
GASTRIC SLEEVE FREQUENTLY ASKED QUESTIONS