Mesotherapy for hair loss is suitable for both men and women who experience hair thinning and hair loss from all ages. Hair Mesotherapy is hair injections for hair growth by using vitamin mix in which there are multivitamins, minerals and amino acids of hair needs, injected directly into the scalp for hair regrowth and strengthening. It is much more effective than externally applied products such as oils, lotions and shampoos
HAIR MESOTHERAPY PROCEDURE
The vitamin mix injected to the scalp area stimulates the area and increases the blood circulation and regeneration. This way the hair begins to get nourished from the roots and gets stronger. The quality of the hair increases and hair loss decreases; it gets voluminous and shiny.
Mesotherapy hair loss treatment is advised to be done in multiple sessions – though you will feel the positive effect of hair loss cure in one session- the number of sessions will be decided through analyzing the hair structure in hair loss consultation. Each session takes around 30 minutes, and usually a single session involves 30 to 40 injections. It has no side effects other than mild pain in the injected area, itching, inflammation, or headache; however, they are all temporary and not seen in every patient.
Mesotherapy hair loss treatment is beneficial when applied after Hair Transplant procedure. It helps newly planted hair follicles to settle in their place, get stronger therefore it supports the regrowth. However, it can be used as a separate treatment for hair loss as well in order to prevent hair loss before the hair transplant treatment becomes necessary. Mesotherapy is not beneficial curing male pattern baldness; but it is very effective and recommended after a hair transplant operation, as it nourishes and supports the scalp.
HAIR MESOTHERAPY AT CLINIC MONO
Clinic Mono offers mesotherapy treatments in well-equipped and the hygienic medical environment; highly expert medical team of Clinic Mono perform mesotherapy for hair loss. Mesotherapy at Clinic Mono gives very satisfying results thanks to the latest medical technology and techniques for hair loss treatments.
BEST HAIR LOSS DOCTORS FOR MESOTHERAPY
Clinic Mono's highly qualified and expert mesotherapy doctors perform very successful and smooth mesotherapy treatments by using the cutting-edge hair loss treatment techniques and advancements of hair loss treatments. The expertise of Mono doctors gives patients for the most satisfying results and a very comfortable mesotherapy treatment procedures.
MESOTHERAPY FOR HAIR COST
Clinic Mono in Turkey offers the cheapest mesotherapy hair loss injection prices that make the procedure number one choice of a wide range of international patients who look for the best treatment option. The mesotherapy for hair cost can vary depending on factors such as the treatment area, the number of sessions required, and the specific needs of each patient. During a hair loss consultation with our mesotherapy doctors, we will provide you with a personalized treatment for hair loss plan according to your expectations and needs.
HAIR MESOTHERAPY BEFORE AND AFTER GALLERY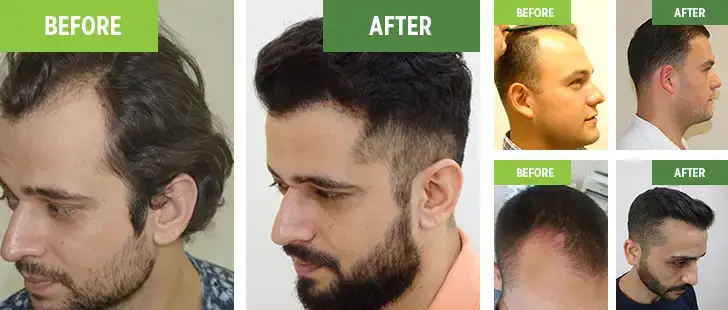 After having the most successful results of mesotherapy for hair loss, Clinic Mono's international patients make the most positive reviews; being the first choice for hair loss treatments, we are very happy to enlarge our Mono family with satisfied mesotherapy patients everyday and have the best hair mesotherapy reviews about their mesotherapy journey with Clinic Mono in Turkey.
HAIR MESOTHERAPY FREQUENTLY ASKED QUESTIONS
Some patients may have side effects such as temporary redness, swelling, or bruising at the hair loss injection sites; but then again these will disappear in a few hours to a few days.
The number of hair mesotherapy sessions that is required for the most successful results may change depending on person's condition and expectations for the treatment. Clinic Mono's mesotherapy doctors will create a custom-made mesotherapy treatment plan for your individual needs.