Dental veneers (laminate veneers) are dental coatings that only cover the front surface of the teeth for an improved aesthetic look; they are suitable for people who would like to improve the look of their stained, worn teeth to have a beautiful and attractive smile. While dental crowns cover all surfaces of the teeth, dental composite veneers Turkey cover the front surface of your teeth to improve the cosmetic appearance.
The process of getting dental veneers begins with a consultation with a qualified dentist. During this initial visit, the dentist will carefully assess the patient's teeth, discuss their desired outcome, and determine the most suitable treatment plan. The veneers are typically made from porcelain or composite resin, and both options provide remarkable cosmetic improvements.
Porcelain veneers are known for their durability and stain resistance, making them a long-lasting solution for achieving a radiant smile. On the other hand, composite veneers are a more affordable alternative that can also deliver impressive results. Whichever material is chosen, the veneers are custom-crafted to ensure a seamless fit and a natural appearance.
In addition to their cosmetic advantages, dental veneers also contribute to improved dental hygiene. Their smooth surface makes it easier to clean and maintain oral health. However, it is crucial to maintain regular dental check-ups and follow proper oral hygiene practices to ensure the longevity of the veneers.
Dental veneers have been used to create a life-long perfect Hollywood smile Turkey. The full set of veneers Turkey is made of very thinly laminated and tooth-colored materials such as porcelain, ceramic or composite material. Many dentists use the analogy of dental laminate veneers, what artificial nails are to hands; a full set of veneers are for your teeth. Recommended for front teeth veneers, but not recommended for side and back teeth.
In conclusion, dental veneers are an exceptional cosmetic dental treatment that can revitalize a person's smile and boost their self-confidence. With their ability to address various dental flaws and provide long-lasting results, veneers remain a popular choice for those seeking a picture-perfect smile. Consulting with a qualified dentist can help individuals explore the best option for their specific needs and embark on the journey towards a brighter, more captivating smile.
Dental veneers, also known as porcelain teeth, are very durable and strong; when the right material is selected for the patients' dental veneers Turkey treatment, your dental veneer Turkey can be used for many years without any problems.
Dental veneers look very natural, making them a popular choice for cosmetic dentistry veneers; special materials used for the treatment allow them to look just like your own teeth. Zirconia is one of the most used materials. Zirconia veneers offer a natural and durable solution for enhancing the appearance of teeth with their lifelike translucency and strength. Zirconium veneers price Turkey also affordable. Another most popular material is porcelain. The porcelain veneers Turkey package includes comprehensive dental services, ensuring a seamless and satisfying smile transformation for patients. Porcelain veneers Izmir, one of the most prefered among patients. Porcelain veneers cost Istanbul changes by package and needs of patients. All Turkey dental veneers are custom-made; they are designed for the patient's specific conditions and come in colour options when purchasing and discussing their full set of veneers Istanbul with their dentist. Teeth caps are common dental treatment used to cover and strengthen damaged teeth, providing long-lasting protection and improved aesthetics. If you have a damaged tooth, a tooth cap can be an effective solution to protect and restore its function and appearance.
The procedure of dental veneers Turkey and getting veneers abroad is quite easy and comfortable; recovery is smooth, and the results from full veneers are quickly achieved. A front tooth crown, also known as front tooth cap, can effectively restore a damaged or discoloured tooth, enhancing both its strength and aesthetic appeal. You can have your dental cap treatment with our good crown dentists in our clinics as well.
Dental Veneer Smile Design
Dental veneers in Izmir/Istanbul through a dental clinic Turkey are famed for achieving the most natural results, and they are highly preferred for "Smile Design" treatments. All porcelain laminate veneers in Turkey come with color options from which you can pick the best one for your dental veneer smile design with the dentist's help.
One of the key advantages of choosing all porcelain laminate veneers in Turkey is the availability of color options. Patients can collaborate with their dentist to select the ideal shade that complements their unique smile and enhances their overall appearance. This individualized approach allows for a smile transformation that looks both natural and radiant.
The dentists in Izmir and Istanbul are not only skilled in the technical aspects of placing veneers but are also well-versed in the artistry of Smile Design. They understand the importance of creating a smile that not only looks beautiful but also fits harmoniously with the rest of the face. This attention to detail and commitment to achieving exceptional results have made these dental clinics in Turkey highly preferred destinations for individuals seeking top-notch cosmetic dentistry.
Furthermore, dental veneers in Turkey are known for their affordability without compromising on quality. The cost-effectiveness of the treatment, along with the high standard of care, attracts international patients from various parts of the world.
In addition to the aesthetic benefits, all porcelain laminate veneers are durable and can last for many years with proper care. Patients can enjoy their transformed smiles for an extended period, making it a valuable investment in their self-confidence and overall well-being.
How Do Veneers Work?
The veneers process starts with a consultation, which is significant for the most natural and aesthetic Turkey results. The procedure starts with an online consultation in which you are expected to share all your expectations, teeth photos, and information about your medical history, and answer any questions you may have, such as how long do veneers last from Turkey? What is the  difference between crowns and veneers? According to your needs, our dentists and medical consultants will create a personalised Turkey veneer treatment plan, with a recommendation on the most suitable veneers package being made.
The day of the dental veneers in Turkey will start with taking an x-ray if you have not provided an updated one in your consultation process. To prevent your laminate veneers turkey from having an unnatural and thick appearance, your dentist will get your teeth filed for veneers. To do this they will minimally shave down the teeth under veneers. Each veneer is unique for the patients; a mold of your teeth structure will be made and sent to the lab to produce actual laminate teeth veneers.
When your customized veneers are ready, they will be placed on the front surface of your teeth and secured through composite bonding. Using this cement; a special light will be applied for the bonding to be quicker and stronger and your full set veneers Turkey to be completed.
Recovery After Dental Veneers
After receiving your dental veneer in Turkey, patients can return to their daily routines right after having dental veneers in Turkey, providing they follow the post-op instructions carefully.
Proper oral hygiene practices should be followed following having stick on veneers teeth bonded to your original teeth.
Sensitivity and mild pain may be experienced after the Turkey veneers; try to avoid too hot or too cold beverages to minimize the discomfort caused by the side effects of composite veneers Turkey.
In addition to following the post-op care instructions, patients should schedule follow-up appointments with their dentist to ensure the veneers are properly integrated and functioning as expected. These routine check-ups allow the dentist to address any concerns and make any necessary adjustments for optimal results.
 As with any dental procedure, it is essential to maintain good oral health habits and attend regular dental check-ups. Routine visits to the dentist will help monitor the condition of the veneers and natural teeth, ensuring their longevity and identifying any potential issues early on.
By adhering to the recommended aftercare guidelines and maintaining proper oral hygiene, patients can enjoy the full benefits of their dental veneers in Turkey. With their new and enhanced smiles, they can confidently showcase their beautiful teeth.
Prepless Veneers
Prepless veneers offer a different type of dental procedure than the traditional porcelain dental bonding Turkey veneers because they do not require any shaving of the tooth; instead, this new special and popular prepless veneers Turkey type is secured straight onto the fronts of the teeth. This way, the dental veneers Turkey procedure does not have to involve any anesthetics –which is a big benefit for patients with a needle or dental phobia.
Prepless veneers provide the same aesthetic and functional benefits as conventional porcelain Turkey teeth veneers, such as improving the appearance of the discolored teeth or fixing minor disfigurements. As prepless veneers do not require any enamel shaving, the procedure is reversible, and these veneers, or teeth covers, can be removed in the future should you wish to; when they are removed, your natural teeth will look just as they did before you had the prepless veneers applied.
Prepless veneers is an ideal dental veneers Turkey procedure for patients who would like to have dental veeners Turkey but are hesitant about the process of shaving the enamel of their healthy tooth; when the dental procedure with prepless veneers is applied for the suitable candidates, it offers many functional and aesthetic advantages along with an easy and quick procedure.
DENTAL VENEERS TURKEY AT CLINIC MONO
Mono Dentistry provides their patients with the best dental veneers Turkey treatments; we are proud to offer very permanent, functional, and cheap teeth packages Turkey veneers. All-inclusive Mono dental full set of veneers cost is designed with the best facilities for the comfort and satisfaction of our patients.
Clinic Mono, a dental centre Turkey,  offers free online consultations for international patients who are interested in getting dental veneers procedure; in these consultations, medical consultants will reply to all your questions about dental veneers in Turkey, and our experienced dentists will create a custom-made dental full mouth veneers Turkey plan after a detailed assessment of your dental health. For the best veneers in Istanbul, look no further than the reputable dental clinics like Mono.
BEST DENTIST IN TURKEY FOR VENEERS
When searching for the best veneers in Turkey, or Turkey veneer package, one of the most important points to find the best dentist in Turkey for veneers is by checking their veneers in Turkey reviews. One of the best place for veneers in Turkey is the highly experienced dentists of Clinic Mono perform premium dental Turkey veneers procedures expertly for the comfort of the patients and the most attractive results for both porcelain laminate veneers Turkey and laminate veneer treatment Turkey.
The best way to find out if you are a suitable candidate for a dental veneers procedure is to get a professional opinion from our talented dentists. With a consultation done with a fully qualified and experienced dentist, the general dental condition of patients can be assessed, problems with the teeth can be identified, expected outcomes from the dental veneers Turkey Istanbul treatment can be discussed, and as a result, an individualized dental veneers treatment plan can be designed to achieve the best veneers in Marmaris or throughout Turkey results. Dental veneer in Istanbul treatment plans should be unique to patients. For a flawless smile makeover, consulting a skilled Turkey dentist veneers can lead to outstanding results and renewed confidence. Finance veneers Turkey allows patients to achieve their dream smile without straining their budget. Many dental clinics offer the option to get veneers on finance, making it easier for patients to achieve their desired smile without a large upfront payment.
As with other dental treatments, many factors affect the Turkey teeth packages and what a full set of veneers cost Turkey. Dental veneers treatments are not offered in the same price in every country; one of the cheapest veneers treatments can be found in Turkey, so getting your teeth done in Turkey costs you less than in other places. The country receives a significant number of patients from abroad for the high-quality dental veneers treatments that is offered with inclusive and very affordable treatment packages.When exploring dental options abroad, considering veneers prices Turkey can be a cost-effective choice without compromising on quality and aesthetics. The veneers cost Istanbul is competitively priced, making it an attractive option for those seeking high-quality dental treatments. The laminate teeth price also varies depending on the clinic and the specific treatment plan tailored to the patient's needs.
How Much Do Veneers Cost?
How much teeth veneers istanbul cost may vary depending on the number of the required veneers for your individual condition and the teeth Turkey package you have opted for. Clinic Mono offers dental composite bonding cost Turkey with a package concept. The composite veneers cost is often more budget-friendly than other types of veneers, providing an attractive option for enhancing the appearance of teeth. After a detailed dental veneers in Istanbul Turkey consultation, our medical consultants will inform you about the all-inclusive dental veneers in Turkey price package details. Turkey teeth deals cost will change by your needs and package. Cost lumineers turkey can also change by the dental treatment. 
| Type of Procedure | Mono | Cost UK | Cost EU | Cost US |
| --- | --- | --- | --- | --- |
| | | | | |
DENTAL VENEERS BEFORE AND AFTER TURKEY GALLERY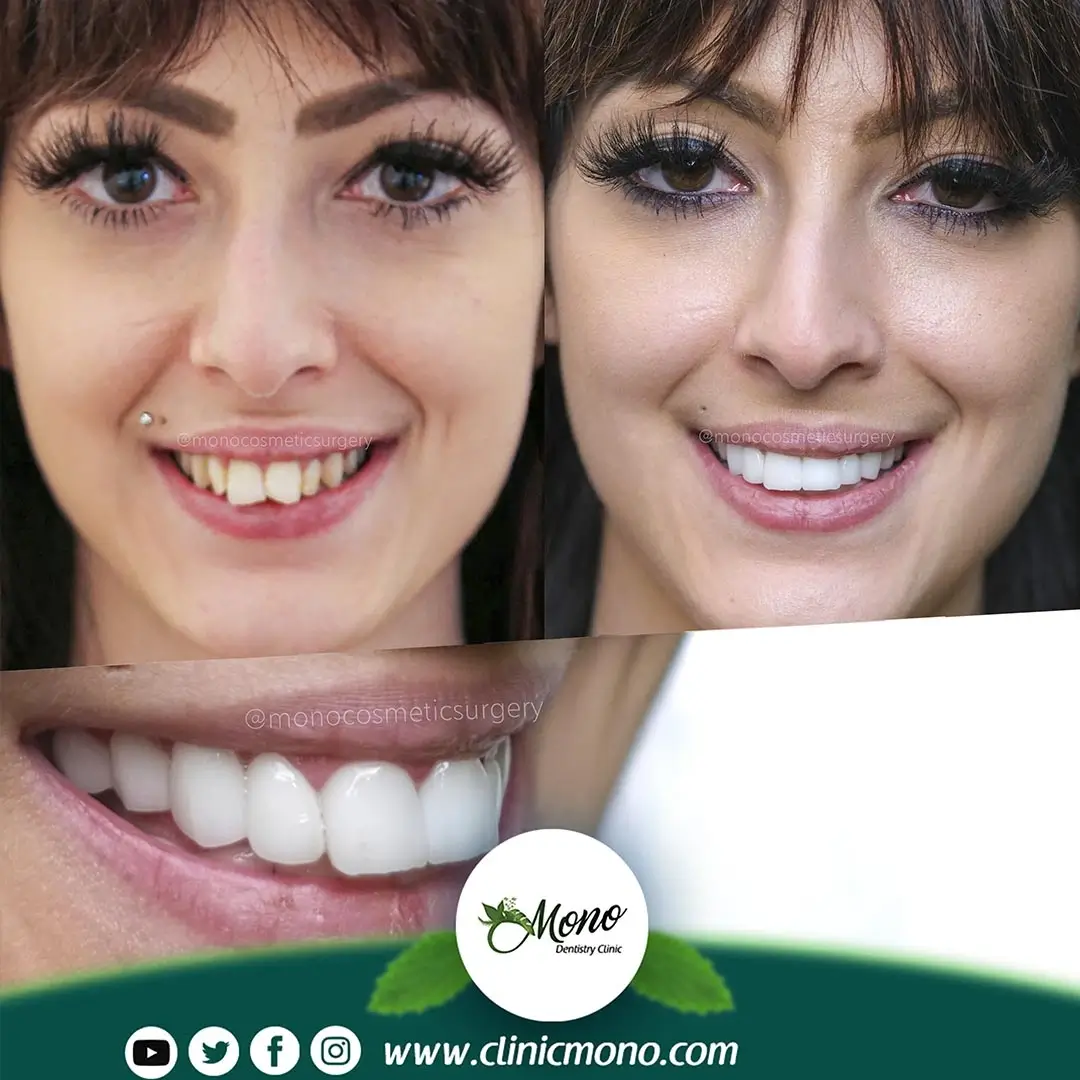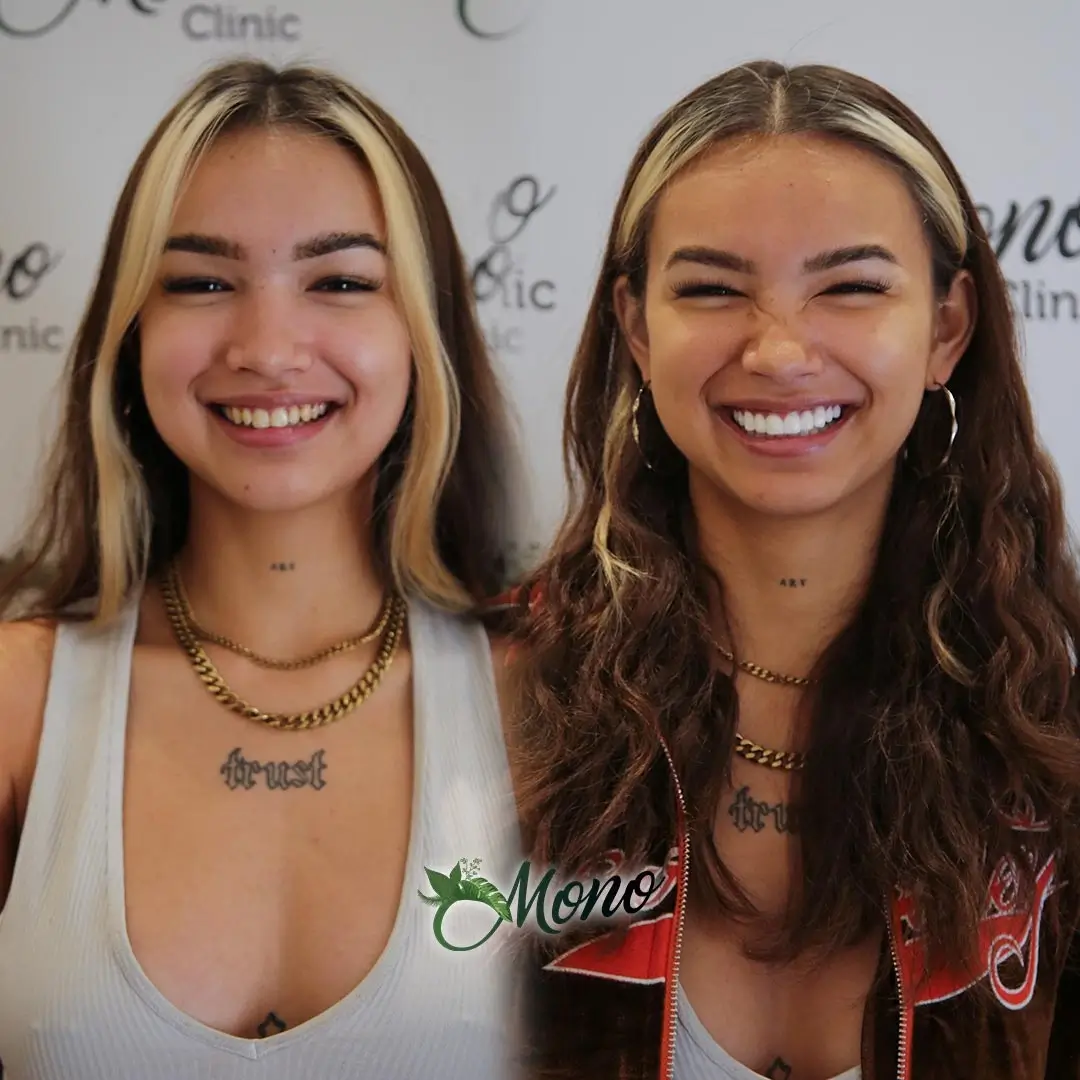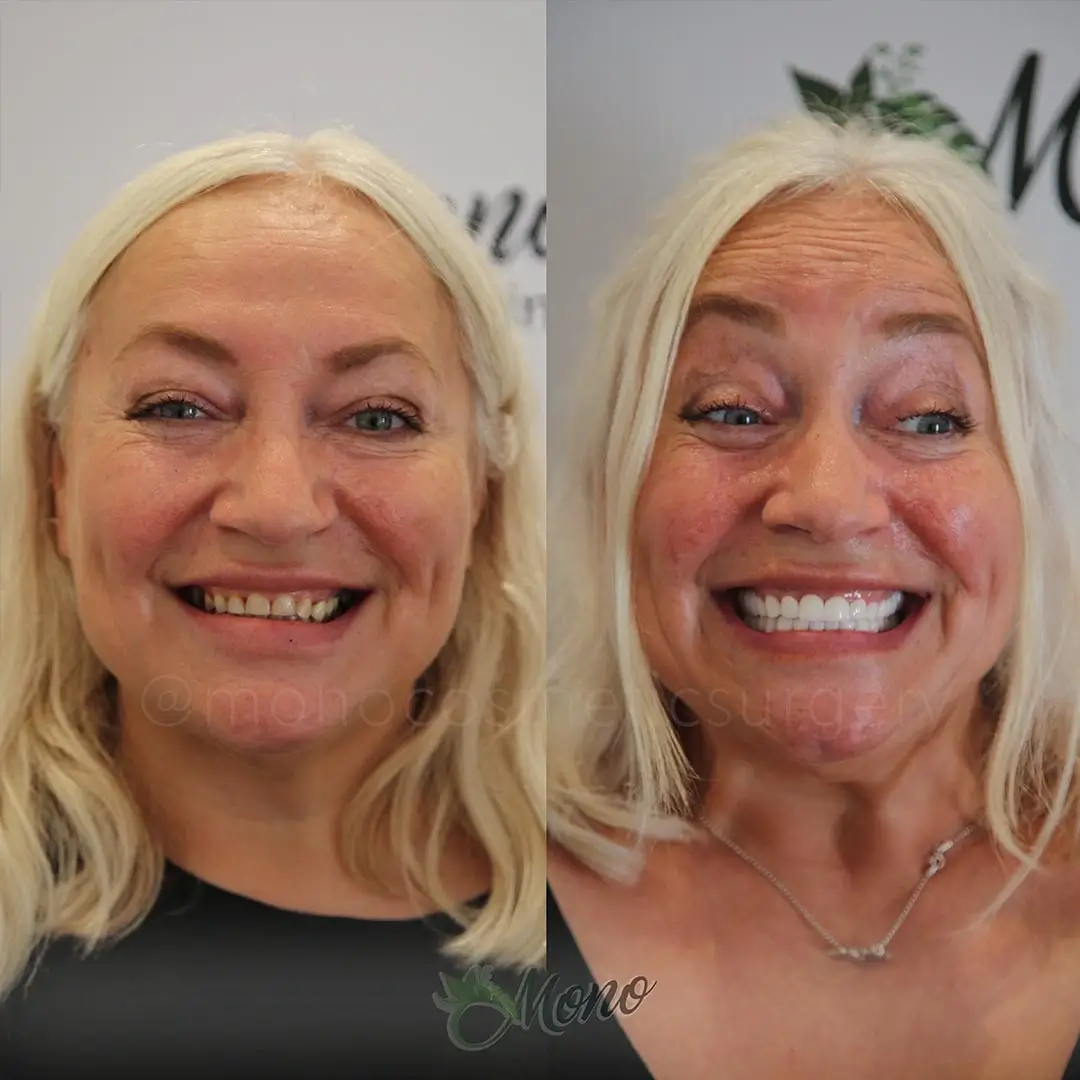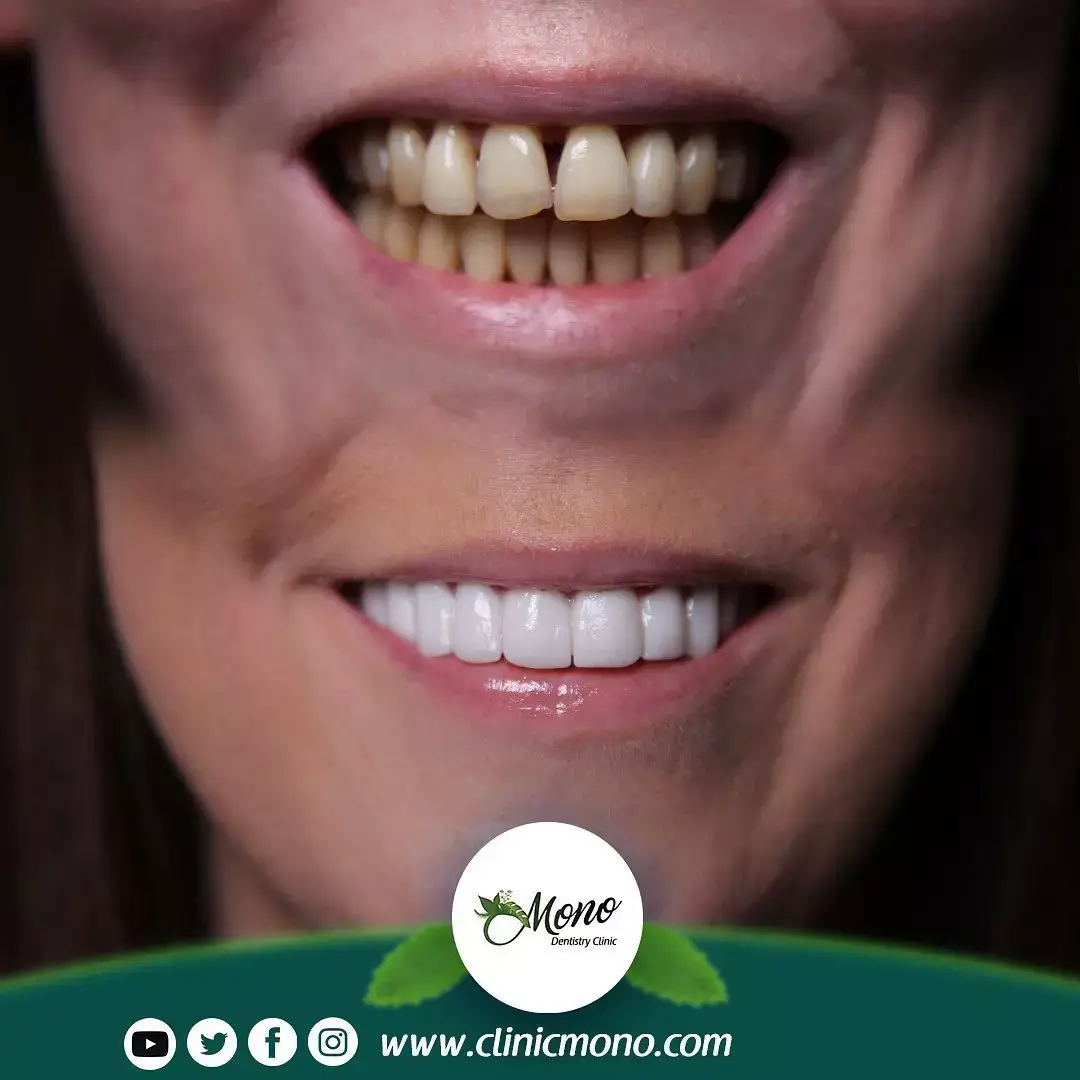 DENTAL VENEERS IN TURKEY REVIEWS
Dental veneers are one of the best ways to achieve a beautiful smile.
After having a natural and charming smile with Turkey dental veneers, patients from the clinic center dentistry Istanbul have regained their confidence and feel much better while smiling and talking to other people; the procedure improves patients' general psychological state and social life in a huge rate. Clinic Mono is happy to perform the best dental veneer treatments and receive the best dental veneers in Turkey reviews from international patients who chose the number one option for their dental procedure. Turkey is one of the best place to get veneers. Veneers turkey best place is Mono Clinic. You can choose our clinic to have your dental treatment.
DENTAL REVIEWS FREQUENTLY ASKED QUESTIONS
Dental veneers are very durable when they are looked after with proper dental care. The application of veneers requires good oral health since the function of the treatment is not straightening the teeth or treating the empty spots. It is effective for repairing minor disfigurements and discoloring of teeth. Dental veneers are unsuitable for patients who experience grinding problems since it may disrupt the treatment results. Patients can benefit from the expertise of Turkish dental clinics offering aesthetic porcelain fillings in Turkey for a natural and seamless smile restoration.
If you would like to get more information about dental vaneers Turkey, "Smile Design" and special package dental veneers cost, please fill out the consultation form; our dedicated medical consultants will contact you immediately to start discussing your Turkey dentist package.
If you would like to get more information about dental veneers Turkey, "Smile Design" and special package dental veneers cost, please fill out the consultation form; our dedicated medical consultants will contact you immediately.
Relates Surgeries
Prepless Veneers | Laminate Veneers | Composit Bonding