Eyelid surgery, medically known as "blepharoplasty" or more commonly known as "eye lift", is a surgical procedure performed to repair deformed upper and lower eyelids. The sagging and loss of elasticity of the skin ARE common signs of aging, and bring with it associated problems such as sagging eyelids, sunken and hollowed under-eyes and a baggy look to the eyes.
Eye lift is a very improved cosmetic operation that is performed by using the latest medical techniques and technologies. The success rate of the operation is very high and the results are permanent.
Eyes carry a big importance on a person's general energy and facial expressions. After an eye bag removal surgery, the general appearance of the face significantly gets younger. While sagging eyelids can make people look tired and older, eyelid surgery can make patients look more energetic and youthful.
For a large number of people, saging eyelids limit their vision. Blepharoplasty does not change the function of your eyes, but after removing the excess eyelid skin, many patients report that they have achieved a wider and better vision. If you want to know more about blepharoplasty in Turkey and what eyelid surgery will cost in 2023 then the following content will help you to gain more insight.
Sagging skin of eyelids is not always just an aesthetic problem.t can also cause problems with your vision. Sagging upper eyelids may cause difficulties in vision, which are very dangerous, especially when you are doing activities like driving. Therefore, eye lift surgery and can be performed for both aesthetic and medical reasons.
Eye lift surgery can be performed for 2 eyelids or 4 eyelids depending on the needs and expectations of the patients. It is common to get the eye skin removal surgery on the upper eyelids only, but the lower eyelids are also quite susceptible to deformation due to ageing.
For the eye skin removal operation, the proper incisions are made, usually in the folds of the eyelids or beneath the eyelashes. The excess skin and fat in the eyelid areas are removed according to the pre-determined treatment plan. After the necessary extractions are done and the symmetry is achieved, the area is closed.
Recovery After Blepharoplasty
It is normal to experience swelling, bruising and pain around the eyes after the eye lift operation. The surgeon will prescribe you with the appropriate medication to prevent infections, minimise the side effects and support the healing process. Application of the cold packs as instructed is highly recommended to control bruising and the swelling.
In the first 24 hours you should not read, watch TV or do any activity which may tire your eyes. You should rest your head in an elevated position to control the swelling.
Blurred vision, difficulties while closing the eyelid and changed sensation can be observed after the operation.

Wearing make-up should be avoided for at least 3 weeks to prevent any possibility of infection.

Alcohol consumption should be avoided for at least 3 days after the surgery. Also, smoking should be refrained until you are completely recovered since it can interfere with the healing process.
Heavy exercising should be avoided for 2 weeks. Sun exposure should be avoided for 6 weeks.
Results of cosmetic surgery for eyes are permanent and noticeable right after the surgery.
Eye Bag Removal Surgery in Clinic Mono
Eyelid bags Turkey: Clinic Mono is proud to offer international patients the best blepharoplasty in Turkey with the all-inclusive and cheapest treatment packages and the best blepharoplasty surgeon performing the most successful and comfortable operations.
For international patients who are looking for eye bag surgery to achieve youthful and more attractive eyes, Clinic Mono takes care of all the details. Your journey starts online with professional and dedicated medical consultants who are 24/7 ready to help you with any questions you may have. All inclusive eye bag removal costs of Clinic Mono cover luxury accommodation, all transfers, medications, meals, check-ups, and everything you may need during your blepharoplasty in Turkey.
Itinerary
Day 1:

Patients arrive at the hospital and have their pre-operative tests done. In a detailed face-to-face consultation with the surgeon, all details about the eye bag surgery are discussed. Afterwards, the operation starts. It takes around 1-1,5 hours depending on the patient's specific condition. On the first night, patients stay in the hospital.

Day 2-3: Patients are discharged from the hospital and taken to their arranged accommodation (Mono Villa or one of the 5-star partner hotels). The first check-up after the eye lift surgery is done and necessary medications are provided.
Day 4-5: Patients can rest in their accommodation. Heavy activities should be avoided. Patients are assigned with a personal assistant they can contact 24/7.
Day 6: The second check-up is done by the surgeon. The rest of the medications that you will need when you get back to your country are prescribed. Dressings and stitches are removed.
Day 7: Patients are picked up from their accommodation and taken to the airport for their flight back home.
Best Blepharoplasty Surgeon in Turkey
Eye bag surgery is a very comfortable cosmetic procedure whether it is a upper blepharoplasty Turkey or a Lower blepharoplasty Turkey. It also has a very high success rate. Those who are looking for the best blepharoplasty surgeon in Turkey can safely have their operation with Clinic Mono's highly talented and experienced blepharoplasty surgeons to achieve the best results and have a smooth treatment process.  Undoubtedly Turkey is the best country for eyelid surgery.
To find out whether you are a suitable candidate for eye bag removal surgery or not, the best way is to get a professional opinion on your individual condition. During a consultation with an experienced plastic surgeon, patients are examined in terms of medical condition and medical history. All the expectations from the blepharoplasty Turkey reviews are discussed in detail and thus a unique surgery plan is created for the patients.
Although eye surgery to remove bags is performed almost everywhere around the world today, Turkey is one of the most visited countries by international patients who would like to have their eyes lifted with advantageous eyelid surgery cost 2023 and a privileged medical experience. Turkey offers the cheapest prices for eye lift surgery and allows patients to have a lovely holiday in a nice country while having their treatment.
How Much Is Eyelid Surgery?
Many people think that eye bag removal can cost them a lot, but this is not true. The cost of an eye bag removal surgery cost depends on different factors. For example, the upper eyelid surgery cost Turkey is different from the lower blepharoplasty cost Turkey.
The eyelid surgery cost also depends on whether you are having the operation for 2 eyelids or 4 eyelids. Clinic Mono offers package eye bag removal costs in Turkey, in which all the necessary details for your treatment journey are designed meticulously by the Mono team. The cost and package details of the eye bag removal will be explained to you during your consultation process by our experienced medical consultants. So patients should focus on the quality of treatment instead of ptosis surgery cost.
Eyelift Before and After Gallery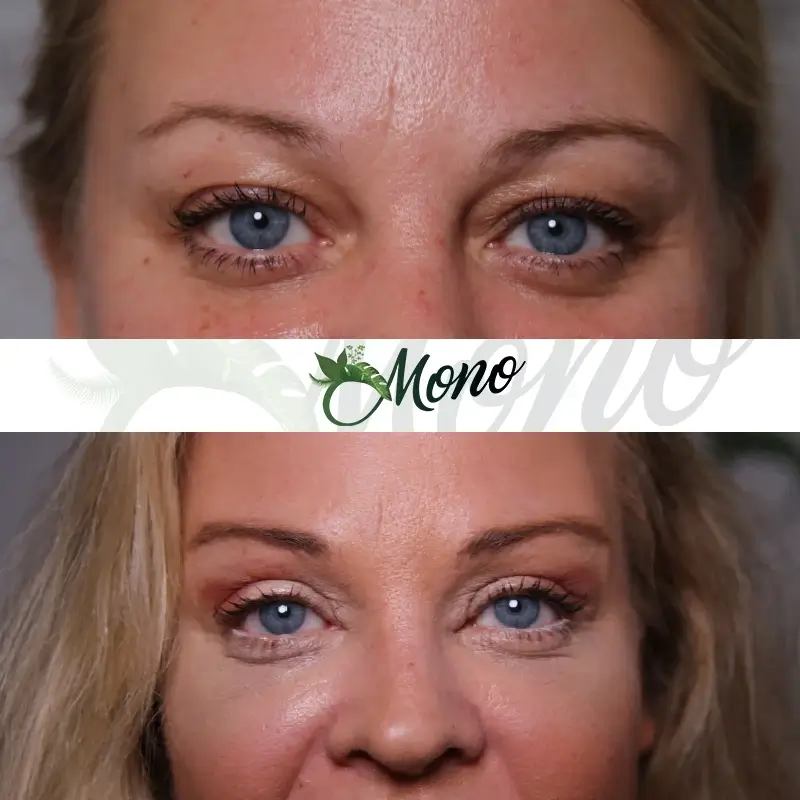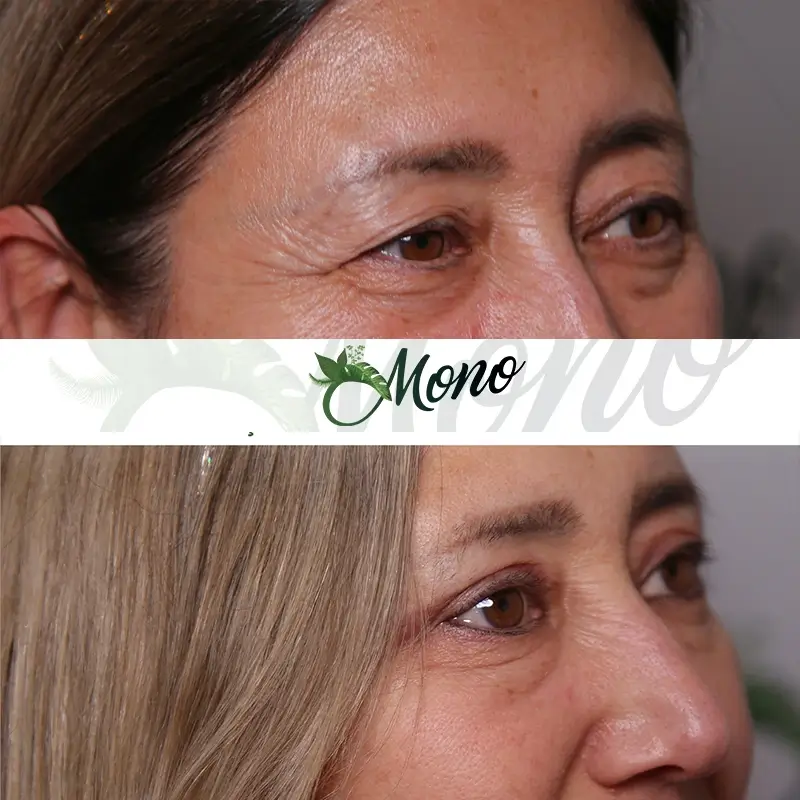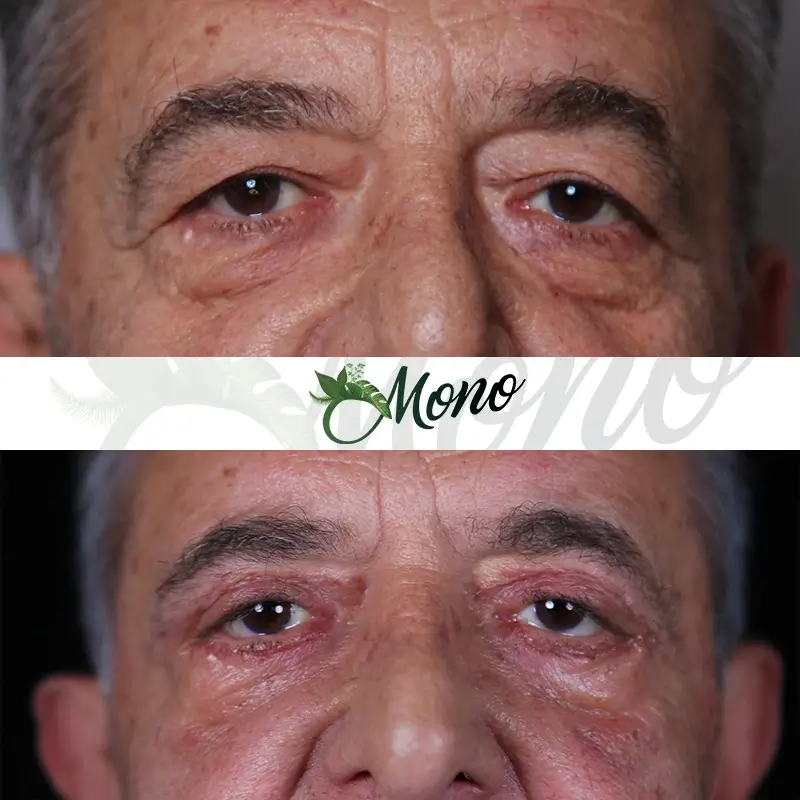 Blepharoplasty Reviews Turkey
If you are looking for the best eyelid lift in Turkey or eyelid surgery in Istanbul and eyelid surgery in Izmir, then come straight to Clinic Mono.
Being the best clinic for blepharoplasty in Turkey, Clinic Mono is happy to receive many international patients and become a big family.  Clinic Mono has the best eyelid surgeons and they can perform different kinds of surgeries including  surgery for asymmetrical eyes . They also have great success rates in cosmetic eye surgery in Istanbul and eye plastic surgery.
Since eyelids are very effective on the overall look of the face, after the eyelid surgery, patients say that their self-confidence improved significantly. A more youthful and energetic look on the eyes allows patients to be much more comfortable in their professional and social lives. Clinic Mono performs the best eye lift surgeries while providing international patients with a holiday-like journey of blepharoplasty in Turkey. In addition, patients should not worry about the eye lift cost because upper eyelid surgery cost and under eye surgery cost both are economical as compared to cost around the globe. Moreover, surgeons at Clinic Mono perform best blepharoplasty in turkey and have positive reviews from satisfied clients.
Eye Lift Surgery Frequently Asked Questions
Exploring the Benefits of Blepharoplasty in Turkey
In recent years, cosmetic procedures have gained immense popularity worldwide as people seek to enhance their appearance and boost self-confidence. One such procedure that has received significant attention is blepharoplasty, commonly referred to the eyelid surgery. Turkey, particularly cities like Istanbul and Izmir, has emerged as a prominent destination for individuals seeking top-quality cosmetic eye surgery, including upper and lower blepharoplasty, eyelid lifts, and eye bag removal.
Blepharoplasty is a surgical procedure aimed at rejuvenating the appearance of the eyelids by removing excess skin, fat, and muscle from both the upper and lower eyelids. This procedure addresses concerns such as droopy eyelids, under-eye bags, puffiness, and wrinkles, giving patients a more refreshed and youthful look. Whether it is correcting asymmetrical eyes, treating ptosis (drooping of the upper eyelid) or reducing the appearance of eyelid bags, blepharoplasty has become a go-to solution for those seeking to enhance their facial aesthetics.
Turkey's Rising Reputation in Cosmetic Eye Surgery
Turkey has gained a reputation as a global leader in cosmetic procedures, and blepharoplasty is no exception. Cities like Istanbul and Izmir are home to a wealth of world-class clinics and skilled surgeons who specialize in various aspects of eyelid surgery. Turkey has attracted a significant number of international patients seeking top-quality cosmetic eye surgery with a blend of advanced medical technology, experienced professionals, and reasonable prices.
Cost is often a crucial factor in determining the feasibility of a cosmetic procedure. Turkey offers a compelling advantage in this regard. The cost of blepharoplasty in Turkey is generally more affordable compared with many Western countries, making it an attractive option for individuals seeking cost-effective but high-quality solutions for their eyelid concerns. The exact cost varies depending on factors such as the type of blepharoplasty (upper, lower, or both), the extent of the procedure, the surgeon's experience, and the clinic's location.
Patient Reviews and Testimonials
Before undergoing any cosmetic procedure, it is natural for individuals to seek reassurance from previous patients. The internet is teeming with reviews and testimonials from individuals who have undergone blepharoplasty in Turkey. Many patients express satisfaction with the results, praising the expertise of Turkish surgeons, the modern facilities, and the warm hospitality they received during their medical journey.
The blepharoplasty procedure typically involves the following steps:
Consultation: A comprehensive initial consultation with a skilled surgeon is crucial. During this consultation, the surgeon assesses the patient's eyelid condition, discusses their goals, and outlines the most suitable approach.
Anesthesia: The procedure is performed under local anesthesia with sedation or general anesthesia, ensuring the patient's comfort throughout the surgery.
Incision: For upper blepharoplasty, incisions are made in the natural creases of the eyelids, allowing the surgeon to remove excess skin, muscle, and fat. Lower blepharoplasty incisions are often made just below the lash line or inside the eyelid.
Tissue Adjustment: The surgeon skillfully removes or redistributes excess tissue, addressing concerns like under-eye bags, puffiness, and sagging skin.
Incision Closure: The incisions are meticulously closed with sutures or adhesive, ensuring minimal scarring.
Recovery: After the procedure, patients receive post-operative care instructions. Swelling and bruising are common initially, but they fade away over the following weeks. Most patients can resume normal activities within a week or two.
Choosing the Right Surgeon and Clinic
Selecting a qualified and experienced surgeon and a reputable clinic is vital to the success of any cosmetic procedure. Turkey has an abundance of renowned surgeons who specialize in blepharoplasty and other cosmetic eye surgeries. It is advisable to research the credentials, reviews, and before-and-after photos of potential surgeons to make an informed choice.
As the demand for cosmetic procedures continues to rise, Turkey has solidified its position as a top destination for those seeking blepharoplasty and other cosmetic eye surgeries. The country offers a compelling combination of quality and affordability with its skilled surgeons, modern facilities, cheap prices, and positive patient reviews. Whether it is upper or lower blepharoplasty, eyelid lifts, or correction of asymmetric eyes, Turkey's expertise in cosmetic eye surgery promises of a more youthful and confident appearance.
After undergoing a blepharoplasty in Turkey, proper recovery and aftercare play a crucial role in achieving optimal results. While the procedure itself is relatively straightforward, the recovery period requires patience and adherence to post-operative instructions. Swelling, bruising, and mild discomfort are common in the days following the surgery. Your surgeon often provides you specific guidelines on how to manage these symptoms, which may include using cold compresses, keeping your head elevated while resting, and avoiding strenuous activities.
It's essential to attend all follow-up appointments scheduled with the surgeon or medical team. These appointments allow the surgeon to monitor the healing progress, remove any stitches, and address any concerns or questions the patient might have. Following a healthy lifestyle and avoiding habits such as smoking can significantly contribute to faster healing and better long-term results.
The Decision-Making Process
Choosing to undergo blepharoplasty is a significant decision that should be made after careful consideration. Prospective patients should thoroughly research the procedure, understand the potential risks and benefits, and have realistic expectations of the outcomes. Consultations with experienced surgeons are crucial during this decision-making process. A skilled surgeon will evaluate the individual's specific concerns, recommend the most suitable approach, and provide a clear understanding of what the procedure entails.
Moreover, patients must also consider their overall health and whether they are suitable candidates for surgery. Honest communication with the surgeon about medical history, current medications, and lifestyle habits is essential to ensure a safe and successful surgical experience.
The Future of Blepharoplasty in Turkey
As the field of cosmetic surgery continues to evolve, Turkey's reputation in providing advanced and innovative procedures remains strong. The country's commitment to medical advancements, coupled with its focus on patient comfort and satisfaction, positions it as a leader in the field of cosmetic eye surgery. As more individuals around the world recognize the benefits of undergoing blepharoplasty in Turkey, the industry is likely to experience further growth and refinement.
Blepharoplasty in Turkey offers a compelling blend of expertise, affordability, and modern medical facilities for individuals seeking to enhance their appearance through cosmetic eye surgery. With a reputation as a hub for top-tier surgeons and clinics specializing in blepharoplasty, Istanbul and Izmir have become sought-after destinations for those looking to address concerns such as droopy eyelids, under-eye bags, and asymmetrical eyes. As the field of cosmetic surgery advances, Turkey's role in providing safe, effective, and aesthetically pleasing results remains prominent. For anyone considering blepharoplasty, conducting thorough research, consulting with experienced surgeons, and understanding the recovery process are crucial steps in achieving the desired results and boosting self-confidence.
Relates Surgeries
Liplift | Fat Transfer to Face | Endoscopic Eyebrow Lifting | Fox Eyes