Eyelid Surgery
Eyelid surgery, medically speaking "blepharoplasty", is a surgical procedure performed in order to repair the deformed upper and lower eyelids. The sagginess and decreased
Eyelid surgery, medically speaking "blepharoplasty", is a surgical procedure performed in order to repair the deformed upper and lower eyelids. The sagginess and decreased elasticity of the skin are common signs of aging and they bring out related problems such as sagging of eyelids and sunken and hollow under eyes.
The sagging skin of eyelids is not always just an aesthetic problem; the condition commonly creates discomfort with the visual abilities as well. Especially the sagging of the upper eyelids may cause difficulties on vision which is very dangerous especially when you are doing activities like driving. Therefore, the eyelid surgery can be performed for both for aesthetic and medical reasons.
Eyelid surgery can be performed for 2 eyelids or 4 eyelids depending on the needs and expectation of the patients; it is common to get the surgery only for upper eyelids but also the lower eyelids are quite prone to get deformed by aging.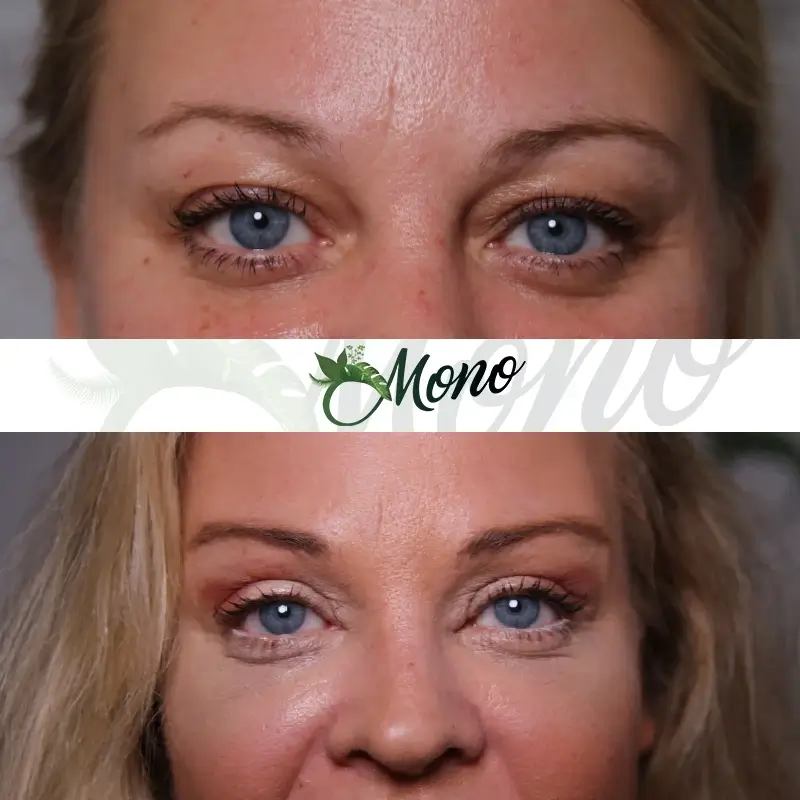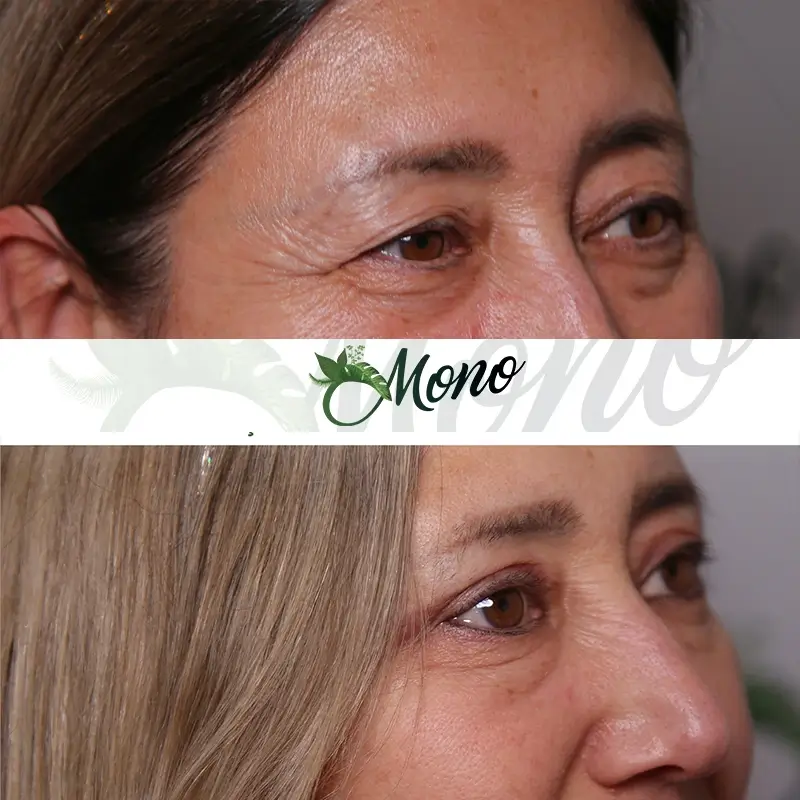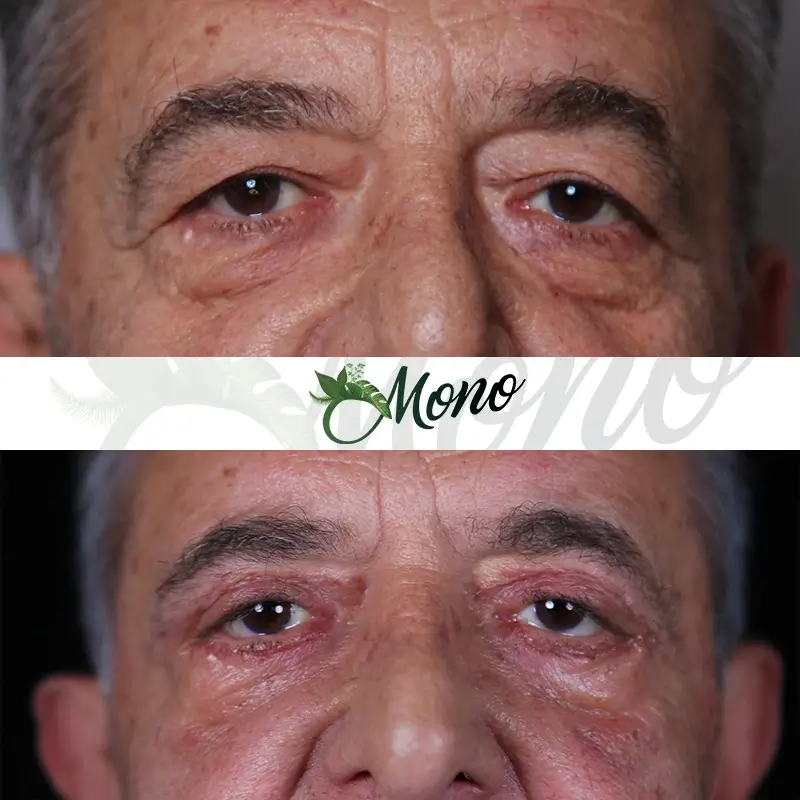 Who Is a Suitable Candidate for Eyelid Surgery?
Eyelid surgery is a very comfortable cosmetic procedure with a very high success rate.
To find out whether if you are a suitable candidate for eyelid surgery or not, the best way is to get a professional opinion on your individual condition. In a consultation that is done with an experienced plastic surgeon, patients are examined in terms of medical condition and medical history, all the expectations from the eyelid surgery are discussed in detail and thus a unique surgery plan is created for the patients.
Everybody who experience sagginess and deformations on their upper and lower eyelids can have a consultation for eyelid surgery to get further details about the operation. Clinic Mono offers online consultation sessions for international patients to provide a much more convenient and comfortable start to their eyelid surgery journey.
Eyelid Surgery Cost in Turkey
While the eyelid surgery is performed almost everywhere around the world today, Turkey is one of the most visited countries by international patients who would like to have their treatment with advantageous prices and a privileged medical experience. Turkey offers the cheapest prices for eyelid surgeries and allows patients to have a lovely holiday in a nice country while having their treatment.
The cost of eyelid surgery depends on whether you will have the operation for 2 eyelids or 4 eyelids. Clinic Mono offers package concept eyelid surgery prices in which all the necessary details for your treatment journey is designed meticulously by the Mono team. The cost and package details of the operation will be shared during your consultation process by our experienced medical consultants.
What Are the Advantages of Eyelid Surgery in Turkey?
Eyes carries a big importance on a person's general energy and facial expressions.
Eyelid surgery is a very improved cosmetic operation that is performed by using the latest medical techniques and technologies; success rate of the operation very high and the results are permanent.
After an eyelid surgery, the general appearance of the face significantly gets younger; while sagginess of the eyelids can cause tired and older look, after an eyelid surgery, patients look much more energetic and youthful.
Latest techniques allow eyelid surgery to leave no trace behind; incision scars are hidden behind the natural folds of the skin and thus not visible after the operation.
For a high number of people, sagginess of the eyelids limits the vision; eyelid surgery does not change anything about the function of your eyes, however, after removing out the excess eyelid skin, many patients state that they have achieved a wider and better vision.
Since eyelids are very effective on the overall look of the face, after the eyelid surgery, patients say that their self-confidence improved significantly; more youthful and energetic look on the eyes allows patients to be much more comfortable in their professional and social lives.
Blepharoplasty Procedure
The proper incisions are made; usually in the folds of the eyelids or beneath the eyelashes. The excess skin and fat in eyelid areas are removed in accordance to the treatment plan made beforehand. After the necessary extractions are done and the symmetry is achieved, the area is closed up the sutures.
Recovery After Blepharoplasty
It is normal to experience swelling, bruising and pain around the eyes after the operation; the surgeon will prescribe you with the appropriate medication in order to prevent infections, minimize the side effects and support the healing process. Application of cold packs as instructed is highly recommended to control bruising and the swelling.
In the first 24 hours you should not read, watch TV or do any activity which may tire your eyes. You should rest your head in an elevated position in order to control the swelling.
Blurred vision, difficulties while closing the eyelid and changed sensation can be observed after the operation.
Wearing make-up should be avoided at least for 3 weeks in order to prevent any possibility of infection.
Alcohol consumption should be avoided for at least 3 days after the surgery; smoking should be refrained until you are completely recovered since it can interfere the healing process.
Heavy exercising should be avoided for 2 weeks. Sun exposure should be avoided for 6 weeks.
Results are permanent and visible right after the surgery.
Your eyelid surgery journey with Clinic Mono starts with an online consultation in which all your inquiries replied and your individualized treatment plan is created by our experienced surgeons and medical consultants. In order to initiate your journey and find out more about treatments and prices, please fill out the consultation form.
Itinerary
Day 1 Patients arrive at the hospital and have their pre-operative tests done. In a detailed face-to-face consultation with the surgeon, all details about the operation are discussed. Afterwards, the operation starts; it takes around 1-1,5 hours depending on the patient's specific condition. In the first night, patients stay in the hospital.
Day 2-3: Patients are discharged from the hospital and taken to their arranged accommodation (Mono Villa or one of the 5-star partner hotels). The first check-up after the operation is done and necessary medications are provided.
Day 4-5: Patients can rest in their accommodation; heavy activities should be refrained. Patients are assigned with a personal assistant they can reach out 24/7.
Day 6: The second check-up is done by the surgeon; rest of the medications that you will need when you get back to your country are prescribed. Dressings and stitches are removed.
Day 7: Patients are picked up from their accommodation and taken to the airport for their flight back home.
FAQ
Will Eyelid Surgery affect my vision?
Eyelid Surgery is an operation to repair deformities of the eyelids and does not have any effect on the vision.
What is the ideal age for Eyelid Surgery?
While there is no specific ideal age for eyelid surgery, it is mostly preferred by patients who are over 30.
When can I get back to my daily life after the surgery?
Patients are able to get back to their daily routines in around 10-15 days after Eyelid Surgery.
With the advancement of your age and the effect of gravity, skin loosening, excesses and sagging occur on your upper and lower eyelids. However, there may be pits, especially with the protrusion of fatty tissues on your lower eyelids. Also, to causing a deterioration in your aesthetic appearance, this situation can prevent your vision by closing the front of your eyes with your drooping upper eyelids. Here, we recommend you the eyelid surgery procedure for such problems. You can have a perfect look with eyelid surgery in Turkey!
Am I a good candidate for eyelid surgery in Turkey?
Eyelid is generally applied to everyone aged 30 and over in Turkey. However, if your upper eyelid structure is familial too low or if you have significant fat accumulation on your lower eyelids, you may prefer this procedure at an early age. Again, if you have droopy eyelids and don't have any physical health problems, you can have this surgery.
How is eyelid surgery done in Turkey?
Eyelid surgery in Turkey is done easily and conveniently. Before the aesthetic operation is applied to your eyelid; our surgeons evaluate your eyebrows, forehead, lower eyelid, and cheeks. The excess skin on your upper eyelid is removed during the operation, and the accumulations on your eyelid are eliminated. Also, during this procedure, your eyebrow edges are lifted. 
For your lower eyelids, the deteriorated cheek-lid relationship is corrected. The recovery oils on your lower eyelid are removed and carried over your cheeks. During the procedure, our surgeon moves your midface area upwards. If necessary, fat injections can be made to your cheek area or around the eyes, or different procedures can be recommended for fine wrinkles.
Why should I choose Turkey?
All of our surgical procedures in Turkey are performed by the world's most sought-after surgeons, members of the International Society of Aesthetic Plastic Surgery (ISAPS). You will be sure that you are in the best hands while receiving your treatments.
When you receive treatment in our clinic, you will have access to the best healthcare facility in Turkey. Our clinic has international accreditations for excellence and hygiene and has been extensively vetted by government departments.
FAQ
Are the results of eyelid surgery permanent in Turkey?
Your aging is a process that continues after the eyelid surgery procedure. Because of this, your eyelids may change over the years. However, your eyelids will never return to their pre-operative shape.
Can I have eyelid surgery together with facelift surgery?
If you want a youthful appearance, you can easily combine your eyelid surgery with your facelift surgery.
Will there be visible scars after eyelid surgery?
Our surgeon will make small, hidden incisions from your eyelid lines that will not be visible after the procedure.
Do I have a risk of vision loss after eyelid surgery?
In no way, eyelid surgery has anything to do with vision.
Will eyelid surgery hurt my natural appearance?
Thanks to our experienced, talented surgeons and the advanced technology we use, your surgery results will be extremely natural.
Are you want to get more information? You can click https://clinicmono.com/eyelid for these.